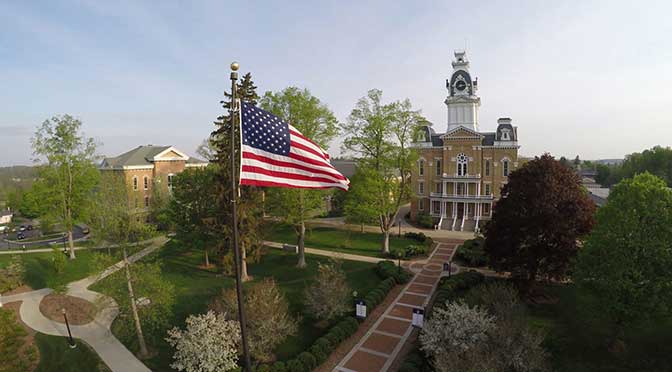 The following [The 2016 Election and the Demise of Journalistic Standards, by Michael Goodwin] is adapted from a speech delivered on April 20, 2017, in Atlanta, Georgia, at a Hillsdale College National Leadership Seminar.
The Times' previous reputation for having the highest standards was legitimate. Those standards were developed over decades to force reporters and editors to be fair and to gain public trust. The commitment to fairness made The New York Times the flagship of American journalism. But standards are like laws in the sense that they are designed to guide your behavior in good times and in bad. Consistent adherence to them was the source of the Times' credibility. And eliminating them has made the paper less than ordinary. Its only standards now are double standards.
I say this with great sadness. I was blessed to grow up at the Times, getting a clerical job right out of college and working my way onto the reporting staff, where I worked for a decade. It was the formative experience of my career where I learned most of what I know about reporting and writing. Alas, it was a different newspaper then. Abe Rosenthal was the editor in those days, and long before we'd ever heard the phrase "zero tolerance," that's what Abe practiced toward conflicts of interest and reporters' opinions. He set the rules and everybody knew it.
Here is a true story about how Abe Rosenthal resolved a conflict of interest. A young woman was hired by the Times from one of the Philadelphia newspapers. But soon after she arrived in New York, a story broke in Philly that she had had a romantic affair with a political figure she had covered, and that she had accepted a fur coat and other expensive gifts from him. When he saw the story, Abe called the woman into his office and asked her if it were true. When she said yes, he told her to clean out her desk—that she was finished at the Times and would never work there again. As word spread through the newsroom, some reporters took the woman's side and rushed in to tell Abe that firing her was too harsh. He listened for about 30 seconds, raised his hand for silence, and said (this is slightly bowdlerized): "I don't care if you have a romantic affair with an elephant on your personal time, but then you can't cover the circus for the paper." Case closed. The conflict of interest policy was clear, absolute, and unforgettable.
As for reporters' opinions, Abe had a similar approach. He didn't want them in the news pages. And if you put them in, he took them out. They belonged in the opinion pages only, which were managed separately. Abe said he knew reporters tended to lean left and would find ways to sneak their views into the stories. So he saw his job as steering the paper slightly to the right. "That way," he said, "the paper would end up in the middle." He was well known for this attitude, which he summed up as "keeping the paper straight." He even said he wanted his epitaph to read, "He kept the paper straight." Like most people, I thought this was a joke. But after I related all this in a column last year, his widow contacted me and said it wasn't a joke—that, in fact, Abe's tombstone reads, "He kept the paper straight." She sent me a picture to prove it. I published that picture of his tombstone alongside a column where I excoriated the Times for its election coverage. Sadly, the Times' high standards were buried with Abe Rosenthal.
Looking to the Future
Which brings us to the crucial questions. Can the American media be fixed? And is there anything that we as individuals can do to make a difference? The short answer to the first question is, "No, it can't be fixed." The 2016 election was the media's Humpty Dumpty moment. It fell off the wall, shattered into a million pieces, and can't be put back together again. In case there is any doubt, 2017 is confirming that the standards are still dead. The orgy of visceral Trump-bashing continues unabated.
But the future of journalism isn't all gloom and doom. In fact, if we accept the new reality of widespread bias and seize the potential it offers, there is room for optimism. Consider this—the election showed the country is roughly divided 50-50 between people who will vote for a Democrat and people who will vote for a Republican. But our national media is more like 80-20 in favor of Democrats. While the media should, in theory, broadly reflect the public, it doesn't. Too much of the media acts like a special interest group. Detached from the greater good, it exists to promote its own interest and the political party with which it is aligned.
This is Part Four of a multi-part series. Keep watch for the next installment!
Michael Goodwin is the chief political columnist for The New York Post. He has a B.A. in English literature from Columbia College and has taught at the Columbia University Graduate School of Journalism. Before joining the Post in 2009, he was the political columnist for The New York Daily News, where he served as executive editor and editorial page editor and led its editorial board to a Pulitzer Prize. Prior to that, he worked for 16 years at The New York Times, beginning as a clerk and rising to City Hall Bureau Chief. He is the co-author of I, Koch and editor of New York Comes Back.
Reprinted by permission from Imprimis, a publication of Hillsdale College.