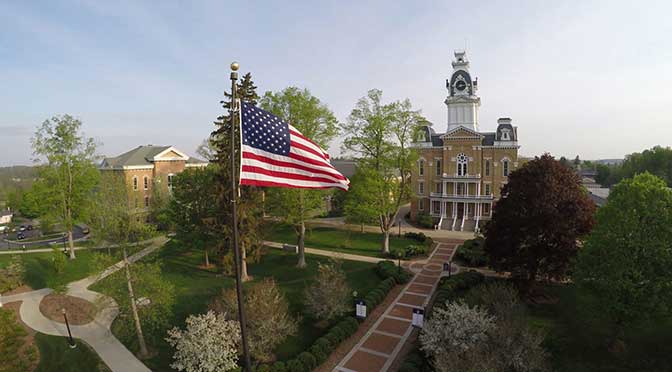 The following [The 2016 Election and the Demise of Journalistic Standards, by Michael Goodwin] is adapted from a speech delivered on April 20, 2017, in Atlanta, Georgia, at a Hillsdale College National Leadership Seminar.
Ronald Reagan's optimism is often expressed in a story that is surely apocryphal, but irresistible. He is said to have come across a barn full of horse manure and remarked cheerfully that there must be a pony in it somewhere. I suggest we look at the media landscape in a similar fashion. The mismatch between the mainstream media and the public's sensibilities means there is a vast untapped market for news and views that are not now represented. To realize that potential, we only need three ingredients, and we already have them: first, free speech; second, capitalism and free markets; and the third ingredient is you, the consumers of news.
Free speech is under assault, most obviously on many college campuses, but also in the news media, which presents a conformist view to its audience and gets a politically segregated audience in return. Look at the letters section in The New York Times—virtually every reader who writes in agrees with the opinions of the paper. This isn't a miracle; it's a bubble. Liberals used to love to say, "I don't agree with your opinion, but I would fight to the death for your right to express it." You don't hear that anymore from the Left. Now they want to shut you up if you don't agree. And they are having some success.
But there is a countervailing force. Look at what happened this winter when the Left organized boycotts of department stores that carried Ivanka Trump's clothing and jewelry. Nordstrom folded like a cheap suit, but Trump's supporters rallied on social media and Ivanka's company had its best month ever. This is the model I have in mind for the media. It is similar to how FOX News got started. Rupert Murdoch thought there was an untapped market for a more fair and balanced news channel, and he recruited Roger Ailes to start it more than 20 years ago. Ailes found a niche market alright—half the country!
Incredible advances in technology are also on the side of free speech. The explosion of choices makes it almost impossible to silence all dissent and gain a monopoly, though certainly Facebook and Google are trying.
As for the necessity of preserving capitalism, look around the world. Nations without economic liberty usually have little or no dissent. That's not a coincidence. In this, I'm reminded of an enduring image from the Occupy Wall Street movement. That movement was a pestilence, egged on by President Obama and others who view other people's wealth as a crime against the common good. This attitude was on vivid display as the protesters held up their iPhones to demand the end of capitalism. As I wrote at the time, did they believe Steve Jobs made each and every Apple product one at a time in his garage? Did they not have a clue about how capital markets make life better for more people than any other system known to man? They had no clue. And neither do many government officials, who think they can kill the golden goose and still get golden eggs.
Which brings me to the third necessary ingredient in determining where we go from here. It's you. I urge you to support the media you like. As the great writer and thinker Midge Decter once put it, "You have to join the side you're on." It's no secret that newspapers and magazines are losing readers and money and shedding staff. Some of them are good newspapers. Some of them are good magazines. There are also many wonderful, thoughtful, small publications and websites that exist on a shoestring. Don't let them die. Subscribe or contribute to those you enjoy. Give subscriptions to friends. Put your money where your heart and mind are. An expanded media landscape that better reflects the diversity of public preferences would, in time, help create a more level political and cultural arena. That would be a great thing. So again I urge you: join the side you're on.
Michael Goodwin is the chief political columnist for The New York Post. He has a B.A. in English literature from Columbia College and has taught at the Columbia University Graduate School of Journalism. Before joining the Post in 2009, he was the political columnist for The New York Daily News, where he served as executive editor and editorial page editor and led its editorial board to a Pulitzer Prize. Prior to that, he worked for 16 years at The New York Times, beginning as a clerk and rising to City Hall Bureau Chief. He is the co-author of I, Koch and editor of New York Comes Back.
Reprinted by permission from Imprimis, a publication of Hillsdale College.