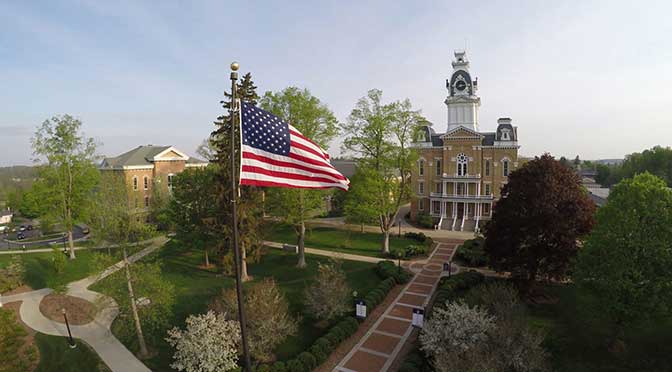 The following, How Intelligence Works (When It Does) by Herbert E. Meyer, is adapted from a speech delivered on February 15, 2017, at a Hillsdale College National Leadership Seminar in Phoenix, Arizona.
Back in January, when U.S. intelligence chiefs released an unclassified version of the briefing they gave to President-Elect Trump about Russian efforts to influence the November election, Americans learned a phrase that's unique to the world of intelligence: key judgment. It was a key judgment that Russia had hacked into John Podesta's email server, and a key judgment that Vladimir Putin preferred Donald Trump to Hillary Clinton. Since these key judgments understandably erupted into a nasty political brawl, let's take a moment to understand what a key judgment really is. Simply put, it's the conclusion reached by our most senior intelligence officials, based not only on the evidence they were able to collect, but also on the insights it enabled them to reach based on their knowledge and experience.
A key judgment isn't the same as a jury verdict. A jury verdict is based solely on the evidence presented to it. In a murder trial, unless the prosecutors can prove beyond a reasonable doubt that the defendant is guilty, you must vote for acquittal. But in a National Intelligence Estimate, you reach a key judgment by starting with the evidence, then combining it with your own knowledge and experience to reach a conclusion.
Precisely because key judgments go beyond evidence, an intelligence service must be trusted by policymakers to be effective. Policymakers may not always like what they're told—as when the obvious implication of a National Intelligence Estimate is that a favorite policy is heading for catastrophe—but if they trust the intelligence service, they will know that what they've been told is likely true. And this trust needs to be earned.
This is how it was during the Reagan administration, because ev­eryone from the President on down knew perfectly well that the intelligence official who not only had read the final version of an Estimate and signed off on it—but also played a major role in writing it—was the CIA director himself. Like every other member of the cabinet, Bill Casey was a busy man. But to Casey, being in charge of our intelligence service meant more than merely being its top administrator and dealing with budgets and bureaucracies. It meant that he himself was our country's top intelligence analyst. When the final draft of an Estimate landed on his desk—more precisely, when I walked into his office and handed it to him—Casey would take that draft, pick up a pen and a yellow legal pad, and go through it word by word.
Sometimes he made a change that clarified a sentence. Other times he asked a question that forced us to go back and re-think what we'd written. When that happened, we either changed the draft or asked to meet with Casey to try and persuade him that the original version was better. He would listen and then make his decision. All of us who worked closely with Bill Casey—he insisted that everyone, including the CIA's most junior analysts, call him Bill—were astounded by the amount of time he devoted to getting the final draft of an Estimate, or the final version of the President's Daily Brief, just right. He did this by sitting quietly in his office, reading, writing, and—something that so few officials in Washington, D.C. set aside the time to do—thinking.
So why has our intelligence service suffered so many failures during the last decade or so, losing the trust of so many? Because it's been run by career bureaucrats and administrators who rose to the top by managing intelligence rather than actually doing it. That's like putting an airline executive with an MBA and a law degree into the cockpit of a jumbo jet. And like bureaucrats and administrators everywhere, our recent intelligence chiefs focused on structure rather than on people. Of course all organizations, including intelligence services, need the proper structure. But especially in an intelligence service, good structure is worthless without the right people—in this case world-class analysts who are deeply knowledgeable about the Mideast, China, Russia, terrorism, and all the rest. Make a list of our country's leading experts on these subjects. How many of them have held top-level jobs in our intelligence service during the last dozen or so years? How often have the leaders of our intelligence service reached out to these people to seek their advice? The correct answers are: none and rarely.
This is Part Four of a multi-part series. Keep watch for the next installment!
Herbert E. Meyer, founder and president of Storm King Press, served during the Reagan Administration as Special Assistant to the Director of Central Intelligence and Vice Chairman of the CIA's National Intelligence Council. A recipient of the U.S. National Intelligence Distinguished Service Medal, his articles and essays on intelligence have been published in several major newspapers, including The Wall Street Journal. He is the author of several books, including Real-World Intelligence and Hard Thinking; two eBooks, How to Analyze Information and The Cure for Poverty; and a recent booklet, Why is the World So Dangerous.
Reprinted by permission from Imprimis, a publication of Hillsdale College.