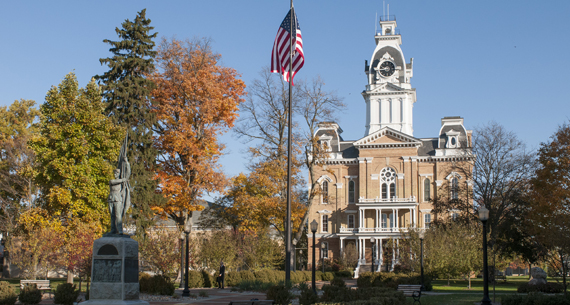 The following [Russian Collusion?, by Mollie Hemingway] is adapted from a speech delivered on September 7, 2017, at Hillsdale College's Allan P. Kirby, Jr. Center for Constitutional Studies and Citizenship in Washington, D.C.
Trump's relationship with Putin was decidedly different. In December 2015, Putin called Trump "a really brilliant and talented person." Trump replied: "It is always a great honor to be so nicely complimented by a man so highly respected within his own country and beyond." He added, "I have always felt that Russia and the United States should be able to work well with each other towards defeating terrorism and restoring world peace, not to mention trade and all of the other benefits derived from mutual respect."
Then rumors surfaced in the summer of 2016 that Russia probably had something to do with the alleged hack of the Democratic National Committee email system, as well as the successful "phishing" of Democratic insider John Podesta's inbox. Russia was also alleged to have tried to hack the Republican National Committee, but without success. It remained an open question whether the Russians were trying to help Trump or were simply trying to create chaos in the election. Regardless, these Democratic Party emails were published by WikiLeaks, and they confirmed what many critics had said about Clinton and the DNC—the DNC had engineered the primary to ensure a Clinton victory; the Clinton campaign had cozy, borderline unethical relations with members of the mainstream media; Clinton expressed private positions to Wall Street banks that were at odds with her public positions; and various other embarrassing details indicating her campaign was in disarray.
According to Shattered, a well-sourced book about the Clinton campaign written by sympathetic reporters, Clinton settled on a Russia excuse within twenty-four hours of her concession speech. [Campaign manager Robby] Mook and Podesta assembled her communications team at the Brooklyn headquarters to engineer the case that the election wasn't entirely on the up-and-up. For a couple of hours, with Shake Shack containers littering the room, they went over the script they would pitch to the press and the public. Already, Russian hacking was the centerpiece of the argument.
The Russian collusion story involves a lot of details, but there are two basic tactics that Trump's enemies have used to push the narrative: they have put seemingly innocuous contacts with Russians under a microscope, and they have selectively touted details supplied by a politicized intelligence apparatus. And this has all been amplified by a media that has lost perspective and refuses to be impartial, much less accurate.
Meetings with Russians
If most of us can now agree that Putin's Russia is a potential threat to the United States, we shouldn't forget that the Washington establishment regarded this as a radical opinion not so long ago. Shortly after President Obama was elected in 2008, Time magazine ran a cover with him asking a Russian bear, "Can we be friends?" The media generally celebrated Secretary of State Clinton's attempt at a Russian "reset" in 2009. Obama was later caught on a hot mic promising Putin more "flexibility" once he was reelected. And during Obama's reelection campaign in 2012, when his opponent Mitt Romney characterized Russia as our greatest geopolitical foe, Obama mocked him by saying, "The 1980s called. They want their foreign policy back." The New York Times editorial page said of Romney's Russia comments that they "display either a shocking lack of knowledge about international affairs or just craven politics. Either way, they are reckless and unworthy of a major presidential contender."
Trump's election changed all that. Not since the heyday of McCarthyism in the 1950s have so many in Washington been accused of consorting with Russians who wish to undermine American democracy.
This is Part Two of a multi-part series. Keep watch for the next installment!
Mollie Hemingway is a senior editor at The Federalist and a Fox News contributor. She received her B.A. from the University of Colorado at Denver. She has been a Philips Foundation Journalism Fellow, a Lincoln Fellow at the Claremont Institute for the Study of Statesmanship and Political Philosophy, and a Pulliam Distinguished Visiting Fellow in Journalism at Hillsdale College. She has written for numerous publications, including The Wall Street Journal, The Washington Post, and Christianity Today, and is the author of Trump vs. the Media.
Reprinted by permission from Imprimis, a publication of Hillsdale College.